Fabrication, modification and environmental applications of TiO2 nanotube arrays (TNTAs) and nanoparticles
This article is published online in:
Front. Chem. Sci. Eng. ( Article in press)
DOI 10.1007/s11705-011-1144-6
by:
S. ROHANI , T. ISIMJAN, A. MOHAMED, H. KAZEMIAN, M. SALEM, T. WANG
Note: In this paper, moidification of TiO2 nano tube by means of ZIF-8 for photocatalytic applications is discussed
Abstract:
Among the semiconductors, titanium dioxide has been identified as an effective photocatalyst due to its abundance, low cost, stability, and superior electronic energy band structure. Highly ordered nanotube arrays of titania were produced by anodization and mild sonication. The band gap energy of the titania nanotube arrays was reduced to 2.6 eV by co-doping with Fe, C, N atoms using an electrolyte solution containing K3Fe(CN)6. The photoconversion of phenol in a batch photoreactor increased to more than 18% based on the initial concentration of phenol by using a composite nanomaterial consisting of titania nanotube arrays and Pt/ZIF-8 nanoparticles. A layer-bylayer assembly technique for the deposition of titania nanoparticles was developed to fabricate air filters for the degradation of trace amounts of toluene in the air and preparation of superhyrophobic surfaces for oil-water separation and anti-corrosion surfaces.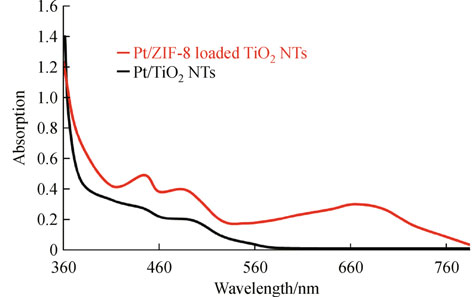 Posted by hkazemian at 10:57 AM EST
Updated: Friday, 23 December 2011 4:12 PM EST